Nerd gives explanations without being asked for them
Let's see: I've done three blogs about reggaeton (I know). Question: is it also necessary to start this one (which has nothing to do with reggaeton) talking about reggaeton? Yes, and in fact I will also finish it talking about reggaeton: he is going to be the host of the gala?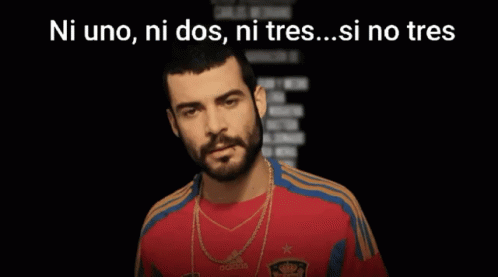 But to defend my arguments today I will use another card, and that is that I bring you one of the most legitimate comparisons that best justifies why La Que Se Avecina is in fact a series from hundreds of years ago, its precedents guaranteeing its enormous current success (and so you can learn about a small part of the history of Spanish lyric theatre while you're at it).
The lyrical sainete is a small play that, with its first performances in the 18th century, combines theatre with music in a performative way that depicts themes of popular interest based on resources such as criticism and satire. Originally they were performed between parts of larger, denser plays that required short intermissions. At the time it was very successful because it provided a light plot that entertained the audience with a simple plot and dialogue.
Similar? Here we go:

Duración
Light and subject to the standards of their respective eras, the sainete on the other hand usually lasted between half an hour and 45 minutes, while the episodes of La Que Se Avecina last a little longer, between an hour and 20-30. In any case, both fulfil a standard: in the sainete that of a pause in a play of major proportions, and in LQSA a light cinematic one. And the equivalent of an opera in today's mass consumption would be a film: long commercial films can be as long as three hours, but the norm is for them to be light and last around an hour and a half.
Mixing humour and morality
The sainete had a humble audience who could not afford to pay the price of an opera ticket (opera has always been an entertainment for the wealthy classes). Then the themes of the sainete were adapted to the life experiences of the people; just as the sainete could criticise the upper class of the time, today La Que Se Avecina constantly parodies, criticises and frivolises the monarchy, the forces of the state, politicians and property speculation. The social reality of the time and class inequality are therefore criticised.
In LQSA there is also a strong presence of criticism of the vanity of the upper classes, as in the Valencian sainete, for example, the false way of keeping up appearances by the Valencian bourgeoisie was parodied, who were portrayed speaking incorrect Castilian.
Personajes-tipo
Let's look at one of the most popular sainetes in Spanish history, La verbena de la Paloma: the characters in this play are very well known: Don Hilarión, the guards, the cantaora, Don Sebastián… all of them picturesque and plain. They represent the people with caricatured features, and that is why they are considered typical characters or archetypes.
[…] no son nobles, ni cortesanos, ni burgueses, salvo el rijoso boticario, don Hilarión; son menestrales, horteras y modistillas, criados y cocheros de punto, artesanos, guardias de la porra, torerillos, picadores y otras gentes de mal vivir, pues, delincuentes o no, apenas alcanzan los niveles mínimos de subsistencia, siempre están a la última pregunta y tienen la lengua suelta y la bolsa escuálida.
[…] they are not nobles, nor courtiers, nor bourgeois, except for the quarrelsome apothecary, Don Hilarion; they are artisans, tacky and modest, servants and coachmen, artisans, truncheon-keepers, bullfighters, picadors, and other people of bad life, for, criminals or not, they barely reach the minimum level of subsistence, are always asking the last question, and have a loose tongue and a scanty purse. They are not only criminals or not, they barely reach the minimum level of subsistence, they are always at the last question and they have a loose tongue and a scanty purse.
Are these words not familiar to you? Horteras y modistillas, criados y cocheros de punto, guardias de la porra, torerillos, gentes de mal vivir, delincuentes… without forcing the mind too much, each word is reminiscent of an anecdote with characters from La Que Se Avecina.
Costumbrism
La verbena de la paloma has a rural atmosphere: its time was not that of the urbanised Spain we know. For today it is necessary to represent everyday realities in an urban environment, and that is why LQSA is set in a residential area on the outskirts of Madrid. Part of the costumbrismo is the landscaping and the location of the fiction. So, how can we summarise the plot of LQSA? Let's dramatise a little:
-Under the auspices of the real estate crisis, a number of middle-class citizens (who cannot afford the standard of living in the centre of Madrid) buy and rent houses in the suburbs, where the cost of housing is considerably reduced. With the real estate crisis being one of the main factors causing their misery, their personal dramas become progressively more acute and intertwined in a kind of commonwealth of the envious and rogues who sometimes support each other and sometimes ruin each other's lives.-
But let's get back to the point: what about costumbrismo in the sainete lyric? In la verbena de la paloma we would have these verses:
¿Dónde vas con mantón de Manila?

¿Dónde vas con vestido chiné?
A lucirme y a ver la verbena,
Y a meterme en la cama después.

¿Y si a mí no me diera la gana
De que fueras del brazo con él?
Pues me iría con él de verbena
Y a los toros de Carabanchel.
Translation:
Where are you going in a Manila shawl?


Where are you going in a chiné dress?
To show me off and watch the verbena,
And to put me to bed afterwards.


What if I didn't want you to go with him on my arm?

Then I'd go with him to the verbena.
And to the bulls of Carabanchel.
In the case of LQSA, we could change the costumbrist elements of this fragment for party bars, political activism meetings, open relationships… concepts that are familiar to us today just as those we read in the text were in those times. And what about the more everyday scenes? Women at work, male cooks, somewhat more conservative households with women as housewives and working men, etc.
In fact, beyond the género chico it is also quite typical to mix costumbrista or traditional elements with the modern, as in the case of the zarzuela La gran vía, in which a popular dance is performed at the same time as commenting on the urban modernities of the time of the construction of the gran vía in Madrid. urban modernity at the time of the construction of Madrid's Gran Vía.
In LQSA we find modern themes (influencers, RRSS…) mixed with more conservative aspects depending on the characters (Christianity, political conservatism). La verbena de la paloma also talks about the progress of science in a discussion about whether to take traditional medicines or modern chemicals. In the words of one of the characters, Sebastián: "Today science is advancing/
Which is barbaric.
Naturalism
Both lyrical sainete and La Que Se Avecina are the opposite of idealised, not even dramatic. Even to try to achieve the dramatic effect they do it in a tacky way (intentionally). Everything is raw and natural: the lives of the people on stage have to be like ours.
Fully dramatised dialogue styles
At the same time as being natural, theatrical acting is very marked. In LQSA there is an enormous influence of Spanish theatre, both in the actors who make it up (most of them come from the theatre world or combine it with TV) and in the preferences of the producers. The fussing, the body language, the absurd dialogue, the absurdity of the dialogue, all of which is planned down to the last millimetre so that the characters can say outrageous things in turns and in a surreal way – practically a playful or clumsy dialogue – are exactly the same as in the genre chico. In every neighbourhood meeting, everyone says something stupid and it all ends up sounding like nonsensical gibberish, but behind the gibberish there is a well-considered composition of dialogue to give it that ridiculous and absurd touch. And this brings us to the next point.
Lightweight arguments
This section is quickly out of the way. To be clear: the plot is the least important thing. There is no interest in a particularly engaging plot, what really matters is to laugh and have a good time.
Direct language to reach all kinds of audiences.
"Con especial atención al popular y animado todo ello por el garbo de partituras fragantes, de fluidez melódica tan real como el afán de huir de todo constructivismo petulante."
"With special attention to the popular and animated by the panache of fragrant scores, with a melodic fluidity as real as the eagerness to avoid any petulant constructivism."
Conclusion
Now for my own moral: is La verbena de la paloma an inferior work of art because of its simplicity? No, in fact over time it has been considered one of the great works of the género chico. And this even though at the time it was thought – and especially by the wealthy classes accustomed to opera – to be pure stinking rubbish.
Like reggaetón and sainete, La Que Se Avecina is considered trash by people who believe in sterile categorisations and who do not understand the needs of the market, the importance of art in them or that the fact that one art form is more commercial than another does not necessarily imply that its quality diminishes.
The problem with reggaetón, lyrical sainete or La Que Se Avecina is a bad approach to what these types of art seek to transmit, each in its own way. And the fact is that all three do the same thing, all three achieve the same thing to perfection, and all three have swept and continue to sweep after decades (and will continue to do so). These genres have triumphed only because of their tremendous capacity to communicate. Reggaeton communicates sensuality/sexuality perfectly, and sainete and La Que Se Avecina show you a light-hearted social critique so that you learn to laugh at yourself, which is the healthiest thing there is. That's why so many people consume it non-stop.
Remember that you can buy rap, trap, dembow, pop, r&b, dembow, reggaeton.. beats! A la carte.
And that's all for today! As always I leave you some blogs related to this one, see you next week!