You've probably heard of Billie Eilish. Maybe you know her from someone who listens to her every day, or maybe you're already an unconditional fan. It is a fact that this artist has gained international recognition in this last stage of urban music. It is clear that her music is peculiar, innovative, unique and extremely personal. But, in addition to these traits, surely you have ever wondered: why has he triumphed so much in such a short time? I'll give you 5 reasons:
1 Her lyrics hook you in
His lyrics connect well with his themes. The mood of his lyrics is different, special, a unique way of telling each story. Her texts stand out for their freshness: they engage the new generations. The artist says in several interviews that she composes the beats and lyrics with her brother, who is music producer and lyricist. Each lyric is somewhere between fiction and personal experiences and feelings. These experiences, especially in his personal side, are the ones that manage to establish such a deep contact with the consumer, especially with young millenials.
Don't you know I'm no good for you?
I've learned to lose you, can't afford to
Tore my shirt to stop you bleedin'
But nothin' ever stops you leavin'
2 Her image and weird personality.
Her indie appearance and her image as a strange and to some extent antisocial girl connects very well with teenagers. Adolescence is a strange and difficult stage to go through, it is a process and in this "being out of place in the world" the feelings of exclusion, rejection or need for differentiation take on a leading role in life. This girl conveys all this perfectly, and she does it from a character but at the same time in a sincere way. This is one of the most decisive factors: look closely. Meghan Trainor, Selena Gomez… artists of this calibre in the artists of this calibre within teen pop sell a very sweetened image of youth. It should be pointed out that in the case of Meghan Trainor, there is a little more complexity and differentiation in some of the lyrics, especially in her first hits, in which she made the It should be noted that in the case of Meghan Trainor, there is a little more complex and differentiation in some of the lyrics, especially in her early hits, in which she alluded to obesity in adolescence and the complex of "not being an attractive young woman" or the marginalisation caused by obesity. But it is clear that no artist working with teenage pop today sells such an intimate and such an intimate discourse full of emotional nudity without idealising it in the slightest as this artist does. In her lyrics, she deals with themes such as death -extremely morbid for young people but at the same time unpopular and unusual in mainstream music- in her No time to die. It's ideal for the stage of touring from urban tribe to urban tribe.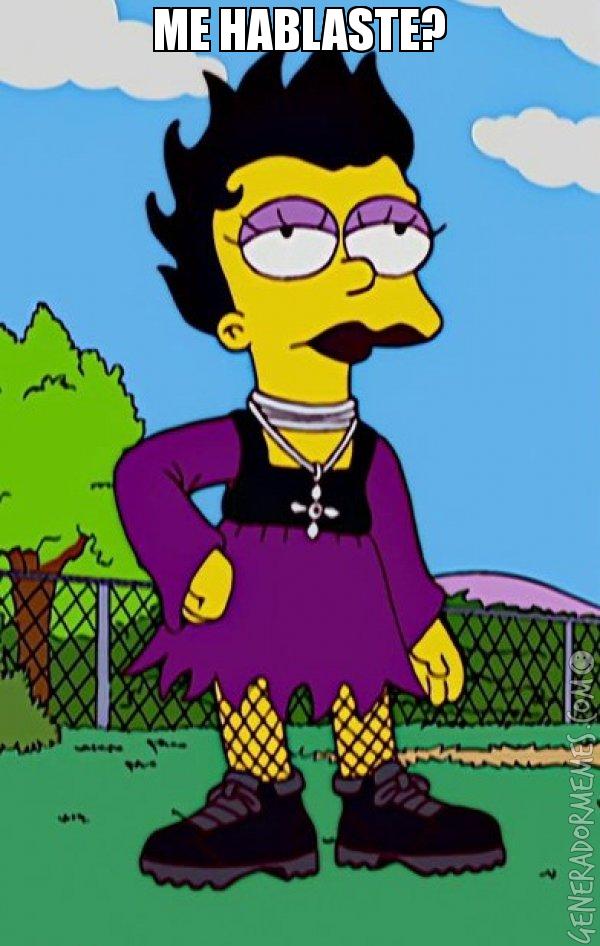 That I'd fallen for a lie?
You were never on my side
Fool me once, fool me twice
Are you death or paradise?
Now you'll never see me cry
There's just no time to die
3 Its simple but powerful music
Precisely this No time to die is one of the examples that best represents the simple and semi-empty production in terms of musical elements, and they are almost atmospheric. Here I leave this work for you to check their incredible style.
4 Sounds fresh
Although she's known for her intimate and quirky side, Eilish also knows how to play the smooth roll, moving between the sexual-sensual, as on one of her biggest hits Bad guy (by which I mean equalisation, not visual sexuality-sensuality. For more information read this other very interesting blog Reggaetoneros know more than you do about Einstein)
Reggaetoneros know more than you do about Einstein)
Reggaetoneros know more than you do about Einstein).
5 It does not represent a normative ideal of beauty, nor does it aspire to do so.
Her character is similar to her real self and, even knowing that she is selling an image of a classic pro-normativist diva like Mariah Carey, Madonna, Britney Spears or many others, she has never tried to sell anything other than her most natural side (with some drama in certain audiovisual works of her career but above all with fidelity and nature).
Remember that you can buy a rap, trap, dembow, pop, r&b, dembow, reggaeton…beat! A la carte.
I hope you enjoyed this blog. As always I leave you here other similar chapters, see you next week!