In this, our terrible music industry – sponsored by capitalism and economic liberalism – we are lucky or unlucky that there are thousands of very interesting devices that can be adapted to our current situation as live instrumentalists, studio musicians or music producers.
Competition in this market is fierce, so that it is not uncommon to find vastly undervalued devices (especially quality keyboards and pianos). There are many keyboards that can be substitutes for large pieces of modern or older analogue or digital engineering, but, either due to unattractive marketing strategies or complex competition, they are little known.
Some of them have a ridiculous price, and this very factor encourages the potential buyer to be prejudiced about their possibilities or quality, and this introduces them into a vicious circle of failure when it comes to selling. Some of them are even out of print, but most of them are true wonders of excellent quality/price, so take advantage and get your act together!
Here I will show you a few examples, and provide you with their main features as well as purchase links and reviews of each device!
1. Beringheer Deepmind 12
The Deepmind 12 is an analogue keyboard that imitates classic vintage synthesizer sounds in a special way and with a unique touch. It's a bargain: it's currently priced at around 700 euros.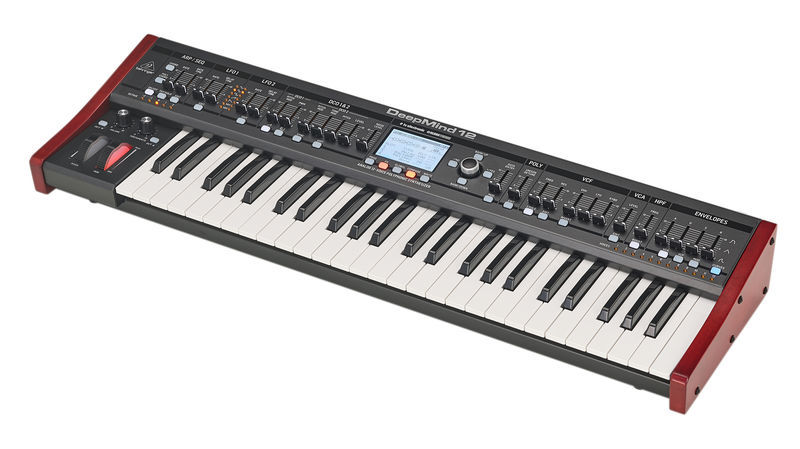 Features
It measures 822x257x103 mm and weighs 8.4 kg (always WxHxD)
-49 keys with sensitivity and aftertouch. 24 oscillators
-3 envelope generators
-32-step sequencer
-Remote controllable
-Small screen
2. Roland Jupiter 80
This is a brutal futuristic keyboard, imitating the classic Roland Jupiter 8, one of Roland's biggest beasts. It had a wide range of sounds that achieved the analogue effect, but on the other hand it had elaborate layered sounds that generated futuristic and retro futuristic atmospheres absolutely unique.
This synth is so overlooked that it came out a few years ago and is now discontinued, replaced by the Roland Jupiter X, which sticks more closely to the analogue sound possibilities of the original.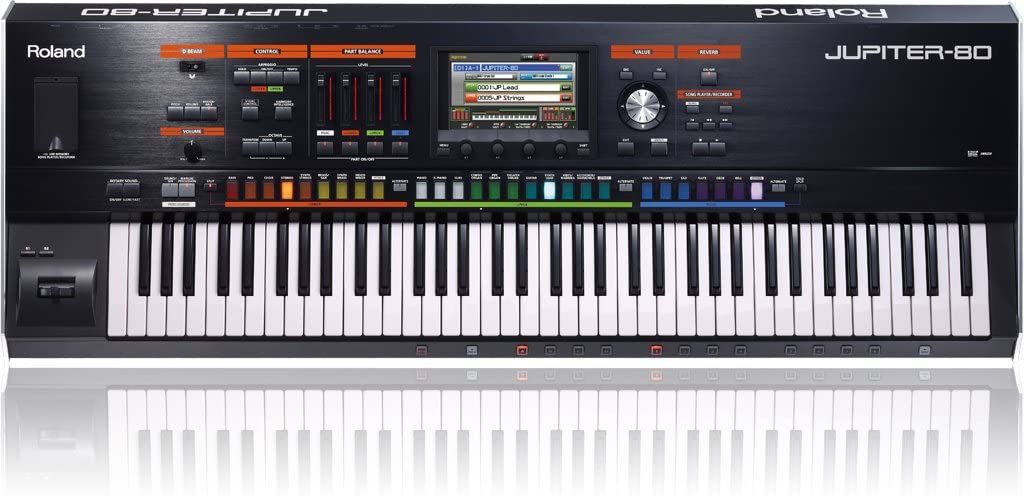 Features
It measures 1230 x 439 x 139 mm
-Weighs 17.7 kg
-Split into four sessions to make Split
-5 types of reverb, compression, eq…
-Ability to record in WAV.
-Large colour display
https://www.roland.com/es-es/products/jupiter-80/
3. Yamaha Reface CP
This little guy is an amazing mini-keyboard; its sounds are super-full and very well crafted by default. Plus, you can set them up using a vast array of editing possibilities that the hardware can process with its various types of commands and knobs.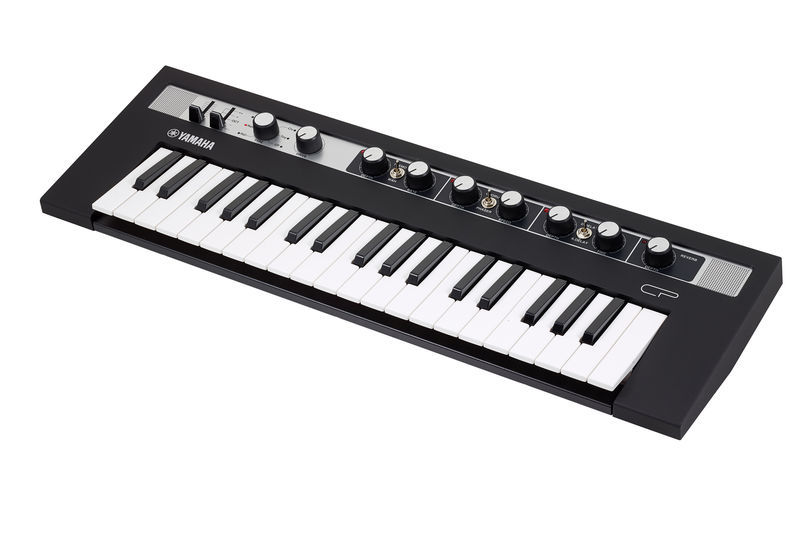 Features
Measures 530 x 60 x 175mm
-Weighs 1.9 kg
-37 keys
-128-voice polyphony
-5 effects
-2 speakers
4. Secuential Pro 3 Special Edition
This monophonic/paraphone sounding synthesiser is a modern and very unpopular gem. Knowing the price we can see that the same company that manufactures it values it very highly.
It has an absolutely incredible filter engineering, with a much more interesting sound than instruments that are in the same product range as the Moog subsequent 37. A very interesting frequency spectrum, which by applying various filters can sound more acidic, rough, smooth, warm… a true versatile and unique sounding delicacy.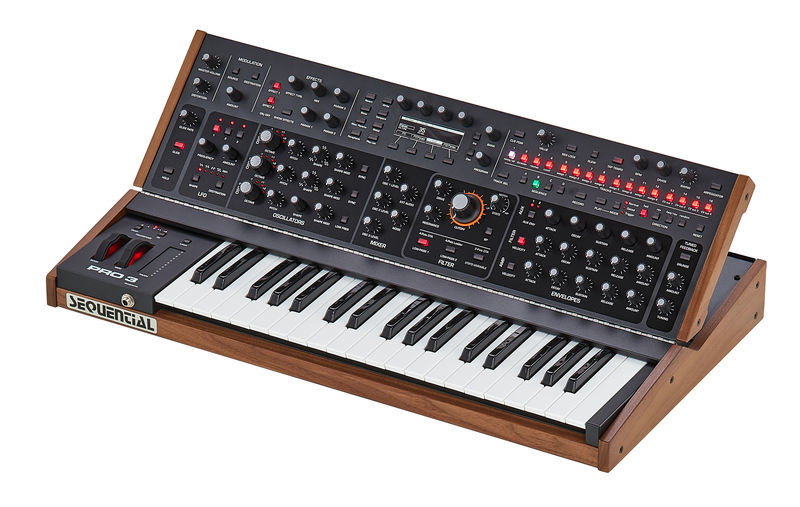 Features
It measures 685x131x368 mm
-Weighs 12.25
-37 keys
-2 analogue oscillators
-One wavetable oscillator
-A 16-step sequencer
-Arpeggiator
-512 presets
5. Roland Juno DS 61
This curious synthesizer is a very "handy" device for live music: it gives you the possibility to put together several sounds, and it has both classic sounds (hammond, wurlitzer, piano, etc) and synthetic sounds of analogue imitation (saw, analog strings, analog brass, etc).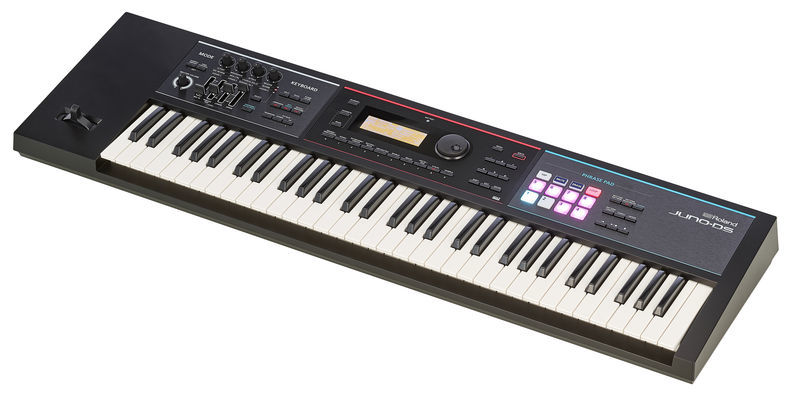 Features
It measures 1008x300x97 mm
-Weighs 5.3 kg
-128-voice polyphony
-More than 1200 preset patches and 30 percussion kits
-Virtual waveforms can be expanded by downloading new waveforms in axial roland
-Microphone input
-Reverb, vocoder, and vocal effects
-Eight-step sequencer
6. Teenage engineering OP1
I believe that this keyboard is not really underrated, but that, like the Dave Smith, it is less well known than it should be. I've spoken to other music producers about this tiny device and absolutely all of them have assured me that it is their endless source of creativity. When they want to lose themselves in the vastness of sound, this is their instrument. That's why such a small thing costs about 1200 euros.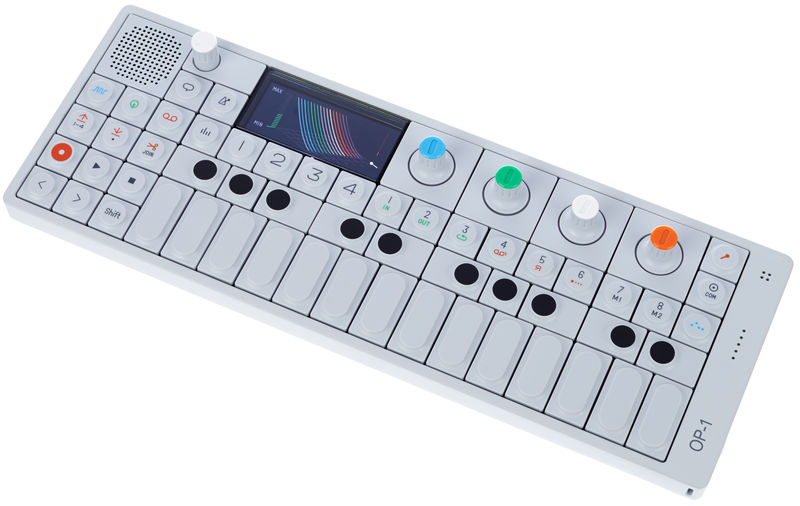 Features
Measures 282x102x13.5 mm
-Weighs 500 g
-Double-octave keyboard
-8 synthesis engines
-24-voice live sampler
-Variable speed 4-track tape recorder
-Recording capability of up to 6 minutes
-Four-track mixer with eq, effect and drive
-File transfer via usb
-Built-in mini-speaker
-Motion sensor
-Built-in FM radio for recording to tape
Recuerda que puedes pedirme que te produzca instrumentales personalizadas de rap, trap, dembow, pop, r&b, dembow, reggaetón, etc! A la carta.