Are you starting your search for a sweet new keyboard? Do you need an emulator or an 'all-rounder' synthesizer that's good for live music as well as for your studio recordings? And most importantly: you need an honest opinion on what's good about keyboards as well as what's downright bad? If you're a keyboard player thinking about moving from a mid-range to a high-end keyboard without going crazy along the way, this is the blog for you!!
First of all I would like to clarify (although it is obvious) that it is important that you are well informed of every little detail when deciding on one keyboard or another if you are going to invest as much money as is done in these cases, but before considering whether or not it is worth it, it is essential to understand in which aspects each type of Workstation stands out and in which it is disadvantageous (if it is the case).
Anyway, I won't beat around the bush, here are 5 great keyboards, each one with its own characteristics and main potentials. At the end of each section I will also leave you a link so you can check for yourself what they have to offer, as well as an example of a video in which a professional tests the sounds of each device.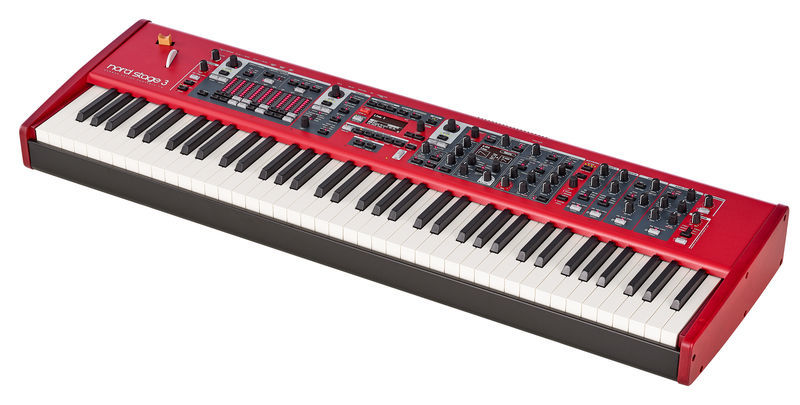 The Nord Stage is a true Clavia piano classic. It is a keyboard with three sections: one for organs, one for pianos and one for synthesis. It is a robust device with a beautiful design, but the most important thing you should know about this instrument is that it is a fantastic emulator of keyboard sounds (wurlitzer, wall piano, grand piano, hammond, Rhodes, etc). In fact, it is possibly the best on the market. In the area of synthesis it is also a titan: Nord's quest in this area is also absolute emulation, with sounds practically identical to those of the Mellotron, the classic Minimoog or other synthesizers such as vintage, Poly Saw and other analogue and FM synthesis synthesizers.
If we talk about the downside of this keyboard, in terms of creating layers of added sounds it is quite limited, being able to add up to a maximum of two layers of the same sound area (two hammonds, two pianos or two synthesizers), although you can mix several sounds by putting together synthetic pianos with realistic pianos, or even ambient hammond sounds with synthetic sounds of long decays, and the result is an incredibly personal and unique sound. And even the limitations that set this keyboard apart from others end up making it a jewel (paradoxically).
Features
Nord stage 3 88 has 88 weighted keys, weighs 19 kilos, and measures 1287 x 334 x 118 mm. It has 120-voice polyphony and MIDI control. It has two effects sections (chorus, flanger, tremolo, Autopan, vibe…), all of them wonderful. Between them they make 12, although the hammond rotary can also be applied to synthesizers  and pianos, and the distortion on the EQ part can be used on all sounds, as well as the reverb and delay, which are quite configurable. It also has a compressor that processes dry/wet and slow or fast attacks and decays. It also has two screens, one for sound banks and a separate one for synthetic sounds; they are both very simple and basic screens. As for the memory, it has 2GBs for sounds and samples that you can enter directly on the keyboard. It has a modulation wheel, bending lever and sensitive keyboard control via aftertouch.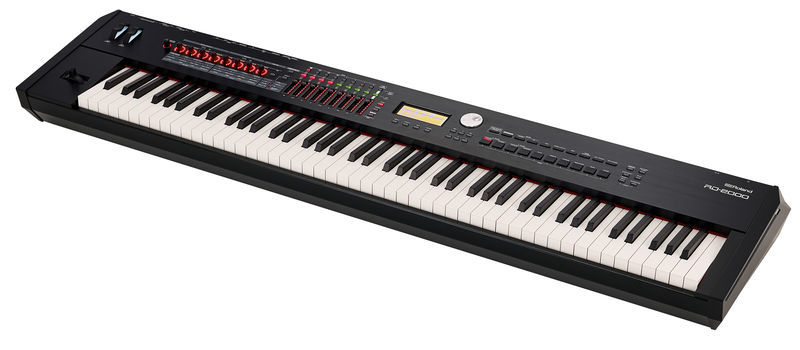 Roland's marketing approach with this piano seems to be similar to Nord's: a versatile piano with a simple screen interface that excels in deep piano emulation and keyboard sounds. As I say, in a similar way to Nord, they go for a simple and small screen, and compared to it, it has a greater number of sounds, many of them possibly very similar to each other (specifically 1100; note that they are similar does not mean that the keyboard is better or worse, simply that Roland usually suggests a great variety of timbres in the presets and Nord bets on you to configure the timbres to your taste, so that the sound is very personal).
Features
It has 88 weighted keys and weighs slightly more than the Nord (21.7 kilos). Its dimensions are 1412 x 367 x 140mm. It has 128-voice polyphony and wider layering possibilities, with 8 assignable zones for mixing internal keyboard sounds with MIDI-controlled sounds. It also has several very interesting effects (several types of reverbs, amp simulator, several rotary…) as well as a 3-band compressor and a 5-band EQ (in both cases it improves the possibilities of Nord, which has less configurable EQs and compressions and only a 3-band EQ). Otherwise, it also has similar features to the previous one (a good arpeggiator, physical knobs, MIDI interface…). What makes this keyboard different from the rest of the top ones is that it doesn't have aftertouch, so you lose some possibilities of expression through fingering.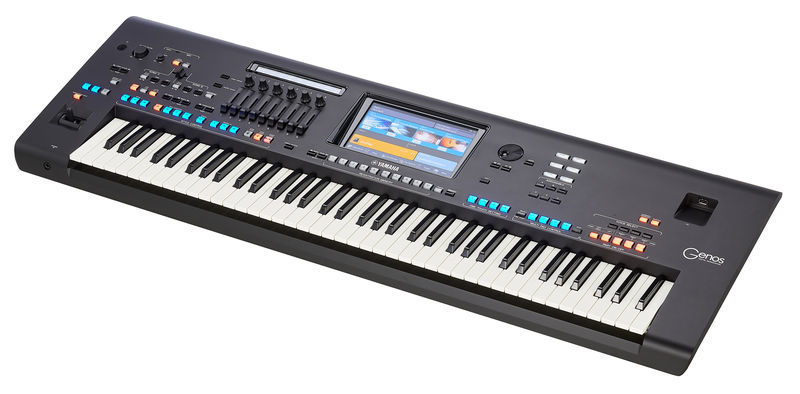 If Nord was a good emulator of keyboard sounds, this is a general emulator of all the timbral variety that orchestral and acoustic instrumentation offers (you can sound like a real trumpet, an English horn, an oboe, a violin, a chamber ensemble… and also like an acoustic guitar, an electroacoustic guitar…). If you want to be a real one-man band capable of sounding like any instrument I would recommend this one in a heartbeat.
Features
It is slightly narrower than the previous ones, with 76 semi-weighted keys and 13 kilos of pure magic. It measures 1443 x 371 x 148 mm. It has 1652 sounds and 58 realistic-sounding drum kits. The polyphony is 256 voices and unlike Nord and Roland it has a very interesting component: the vocoder, a robotizer of the human voice with which you can make very interesting choruses. The keyboard has a memory of 1.8 GBs and MIDI control is also possible. The display is quite large and has extensive options for configuring the EQ, compression and the knobs for each effect you can give to the sounds.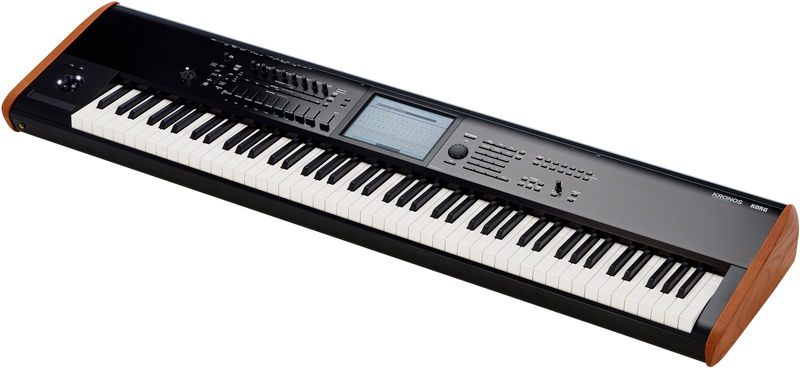 Workstation capacitada para todo, sobria y realista. En parte debido a su pantalla la ecualizacion y la compresión así como todos los efectos, resultan configurables a un mayor nivel y complejidad que en el Nord por ejemplo.
Features: with 88 weighted keys, weighing 24.1 kilos and measuring 1443 x 371 x 148 mm, this is one of the most outstanding devices in the history of workstations, although personally I think it is a little behind in relation to the sound of other keyboards with similar properties. It has 9 sound engines, whose maximum polyphony is 200 voices on the CX-3 engine, although it is variable because it controls not only simultaneous sounds, but also simultaneous effects, so it can vary depending on how the sound effects are reloaded. In any case, in this respect it is a titan. Otherwise, it has the same qualities mentioned in the previous ones, which are equally expected for any high-end piano.

The Kronos 88 is discontinued in almost all music stores, but the Kronos 61 is available, exactly identical but with 61 keys instead of 68.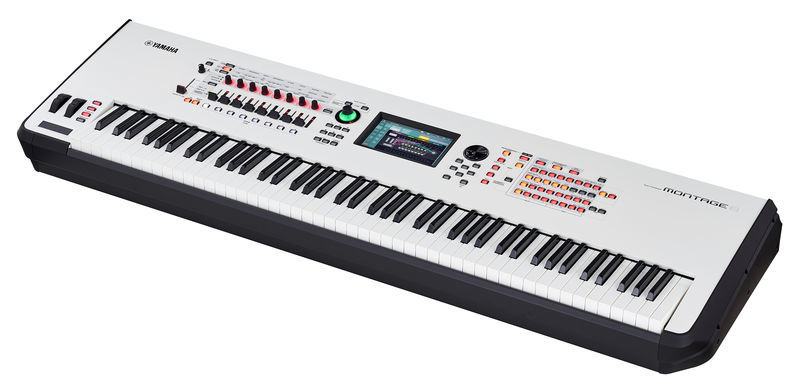 It is a workstation with a more fanciful sound than the previous ones, with a more personal style, although for my taste if the Kronos sounds in general too sober and faded, this one is as if the colour range was saturated and excessive, although the series of keyboards to which it "substitutes" so to speak, is for me the one that has led the best workstations in history; the Motif series, a real marvel whose original models you can only buy in second-hand markets. However, both Kronos and Montage have very interesting sounds within their extensive range. And just as with the Kronos, the EQ and compression as well as all the effects (especially due to the size of the display) have more extensive and complex possibilities than on other keyboards such as those from Nord and Roland.
Features
88 beautifully weighted keys, a weight of 29 kilos and dimensions of 1450 x 160 x 470mm. It has 5120 sounds, MIDI control if needed, waveform memory of 5,67 GBs and flash of 1,75 GBs, 128 polyphony in its two sound engines and a touch screen as I said, quite big to configure all the effects and compressions to very professional levels. For the rest, what we already commented for the others (aftertouch, arpeggiator, etc).
I hope this top 5 of the best "all-rounder" keyboards for live and studio use will give you a better orientation, but remember: listen to the sound yourself, which in the end is the most important thing, as each and every one of them has powerful sound engines and all kinds of engineering for amazing and elaborate effects. Whichever one you choose will be the right choice, but each type of sound is a different world from the last.
Remember that you can buy a rap, trap, dembow, pop, r&b, dembow, reggaeton…beat A la carte.
I leave you here blogs about studio gear and music production, in case they are of your interest. Best regards and see you in the next blog!