Do you need a rhythm sequencer or a rhythm box to record percussion and rhythm sequences in your studio or play live? If you're like me, you need a good rhythm sequencer to make custom beats, this is your blog: here I'll tell you about some of the most popular devices on the market: you'll learn about their possibilities and their quality/price ratio. Stay to find out which one is right for you!
A controller is a device that sends signals to your computer so that you can manage sounds, samples and libraries remotely from specialised hardware. In this case, drum machines have various knobs, faders and/or pads so that you can make different rhythms in a wide and varied way. The possibilities for making catchy rhythms with these devices are endless.
Anyway, I'll stop beating around the bush and go on to explain in detail the best and most versatile drum machines currently available.
Maschine mkIII (649 USD, 555 euros)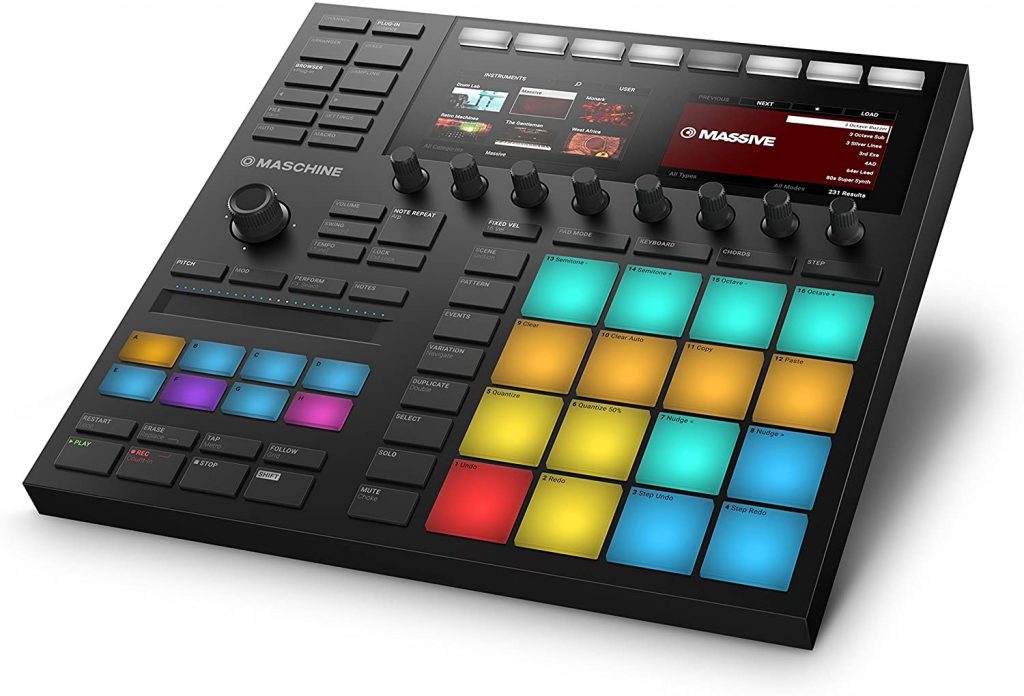 If you're looking for a sampling machine, chances are you're familiar with the Maschine: it's a modern, mainstream-oriented sounding machine that will get you sounding hard in the urban genres most in demand by the radio media. This is why I work with Native Instruments and Maschine 2.0 samples when I make custom beats and custom instrumentals for my clients.
This sampler/sequencer weighs 2.2 kilos, measures 320 x 301 x 41 mm and consists of 16 pads with aftertouch, 2 colour displays and 8 GBs of incredible sounds in its libraries. Thanks to its enormous capabilities it is possible to thanks to its enormous capabilities, it is possible to make ripping sounds, bendings, dynamics modifications, etc. It also includes VSTs and libraries of brutal quality such as the Mini Moog emulation (Monark), The Gentleman piano, the Drumlab percussion set, etc. A marvel of deep and dynamic sound.
*Needless to say, this blog is not endorsed by Native Instruments, nor is the Maschine the best machine you will see here, this is not a top. Each device you'll see below has a totally different style to the last, and each is designed for a different musical or performance style. Moving on!
Akai MPC X (2199 USD 1799 euros)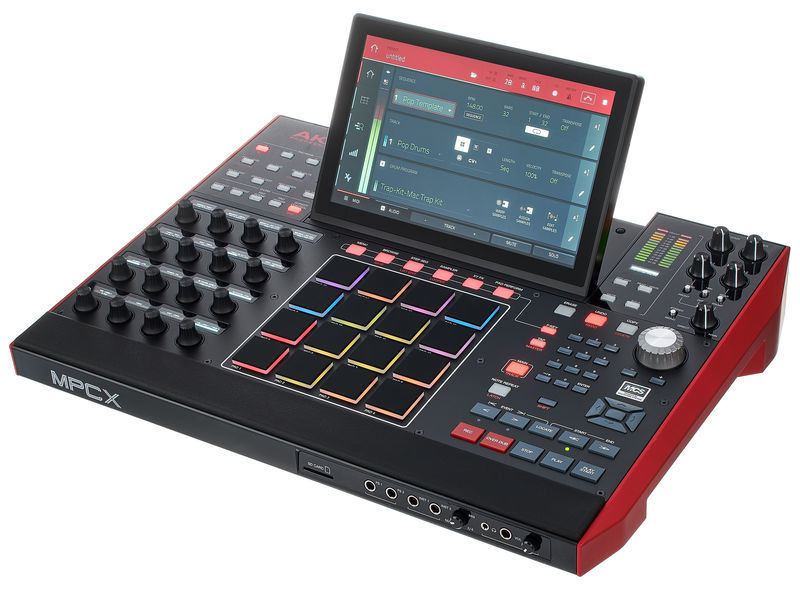 Esta maquinita es un poco más clásica que la anterior: posiblemente sería más recomendable para crear percusiones y chopear samples de hiphop. Con ella puedes crear kits de percusión a tu libre albedrío, así como ritmos potentes enfocadas al nicho de mercado del rap.
This device weighs 5.66 kilos, measures 505x 424 x 87 mm and unlike the Maschine it is a standalone, i.e. it doesn't need a computer to work, it is self-contained (to achieve this with Native Instruments you would have to buy the Maschine Studio, but it is a bit outdated).
Another outstanding quality is its incredible 10.1-inch touch screen, with which you can control everything: sampling, effects, eq, compression… etc. If you are looking for comfort and you like to control your music from the hardware, this is the drum machine for you.
It has a capacity of 16 GBs, of which more than 10 GBs are solely for sound storage. You can also connect external hard drives to store many more samples. Otherwise it has interesting capabilities, such as the possibility to convert rhythms to swing or transpose the pitch, as well as the note repeat, which is basically a kind of retrigger that launches the same sound at different speeds according to the musical figures (for example, it can launch a hi hat in eighth notes, sixteenth notes, sixteenth notes, sixteenth notes, eighth note triplets…etc. with just one or two button presses!)
Roland aira TR8S (699 USD 599 euros)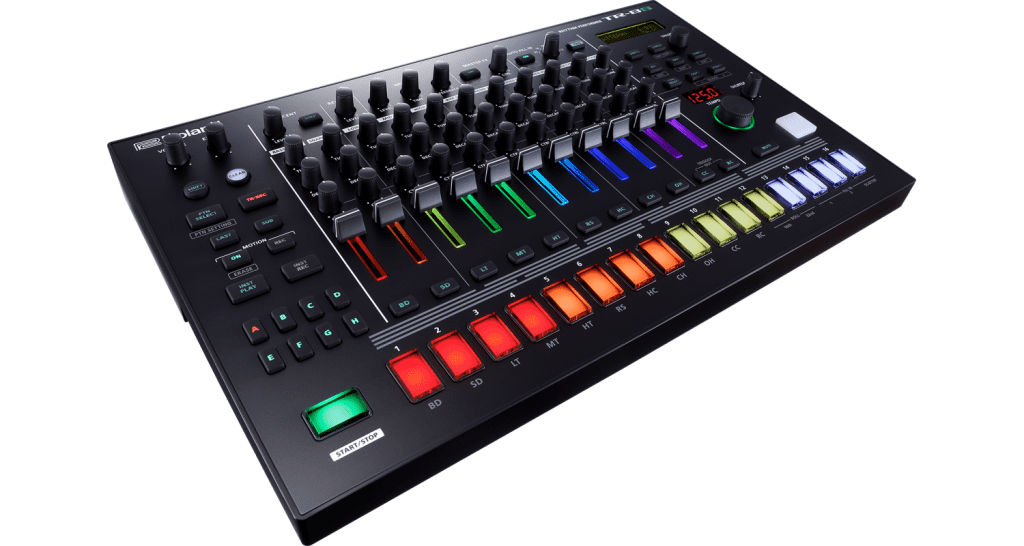 Judging by the personality of its sound, this drum machine seems to be more focused on making club music jams or producing vintage music like the well-known and titanic tr808. And this machine is practically a replica of it, being able to process sounds from the best of Roland drum machines throughout history: 808, 909, 606, 707 and 727 sounds along with other modified sounds based on these ranges of rhythms of the brand. A powerful and seductive marvel by nature.
Let's go with the qualities: it weighs 2.1 kilos, measures 409 x 263 x 58 mm, and has 128 sound kits and a 32-step sequencer. This quality of the sequencer is quite striking, as many machines usually have 16 steps, so this box provides more possibilities of variation in terms of rhythm, which fits perfectly with this idea of making jams improvising with rhythms that you can vary as you go along. The machine has a memory of 128 patterns that can process variations. Also, from the hardware itself, you can do mixing and layering of sounds.
Roland SP 404 A (549 USD 449 euros)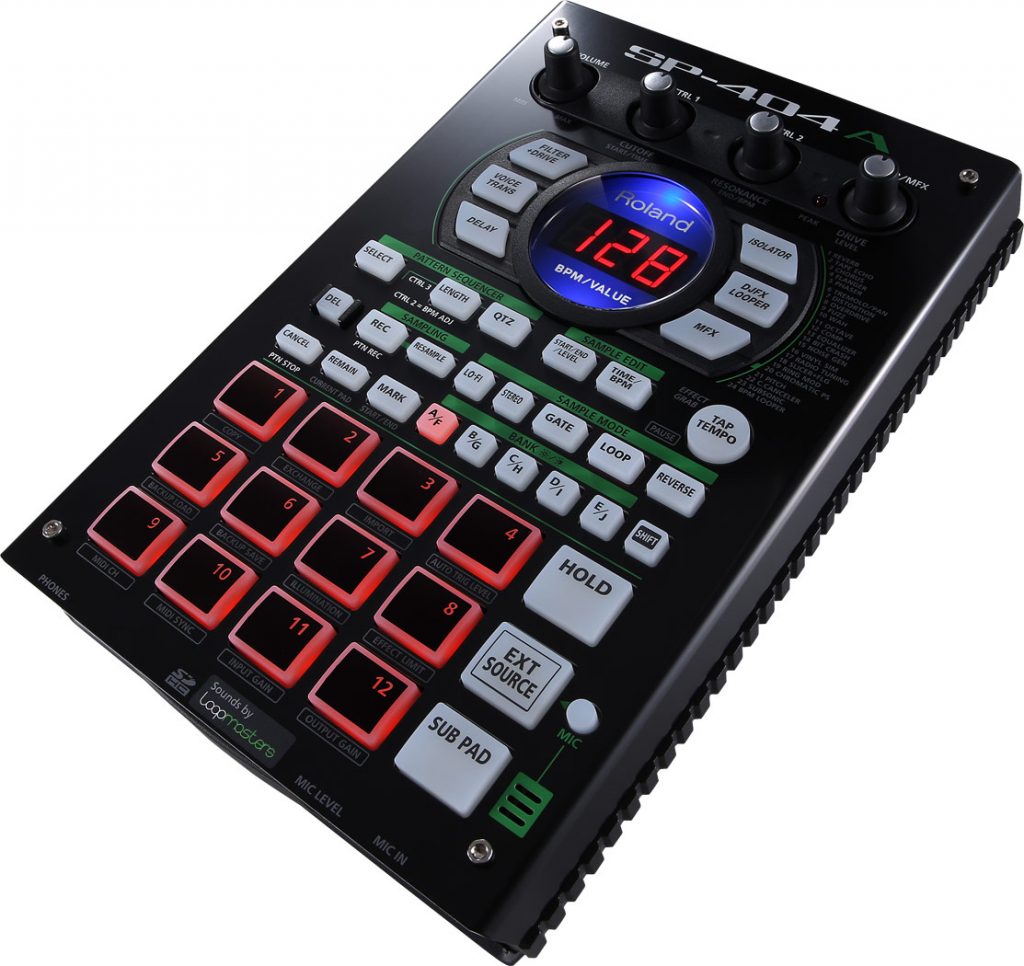 The highlight of this snare is its fantastic filters, which colour the bass and percussion bass in a unique way; you can also cut the treble for a nice sound. It also has a series of vintage noise effects, perfect for hip hop, especially lofi.
At 1.2 kilos and 178 x 257 x 72 mm, it has 12 pads for launching sounds, a built-in microphone and 19 wonderful effects such as delays, filters, vocal effects, etc. It is the smallest and lightest of all the devices I am talking about. It also processes step sequencing with quantization.
Elektron Analog Rytm MKII (1599 USD 1499 euros)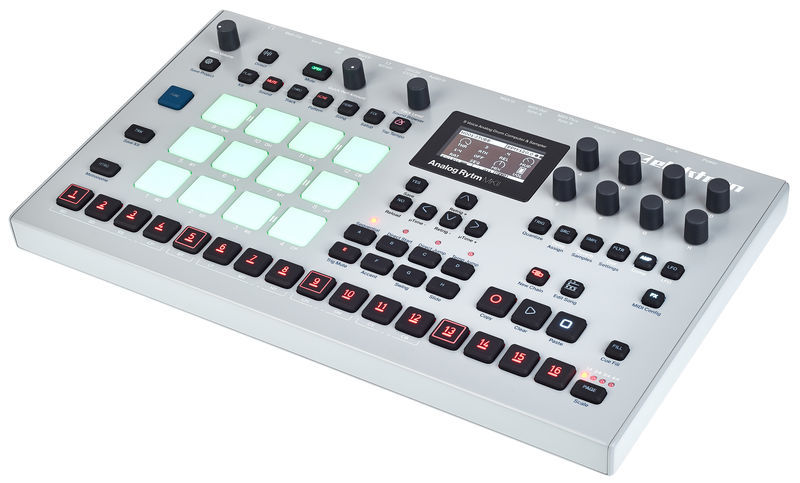 This box is like the Roland tr8s but seems to be more focused on experimental jams rather than club music jams. That is to say, this device is designed so that you can leave your mind empty and from there create your own styles, new and free, outside the market trends. If you want to free your mind from the pre-established, this sequencer is a marvel.
It is the only box in this section that processes analogue sound. It is very fit, weighing 2.5 kilos and measuring 385 x 225 x 82 mm, and has 8 percussion tracks, each with the possibility of analogue sound, a multi-mode filter, an overdrive and envelope circuit, amplifier and assignable LFO.
It has a 1 GB memory for internal samples and a wide range of sampling, effects, distortion and FX master compressor options. The display is small and handy, and the controls make manipulating the live sound quick and easy.
That's all for today! I leave you other blogs with similar content to this one in case you want to learn a little more! Remember that you can ask me to produce custom bases for rap, trap, dembow, pop, r&b, dembow, reggaeton, etc! A la carte.