I will explain to you how I turn the game into a job
In this new blog, as well as seeing my process of composition, production, mixing and mastering of my bases and complete tracks, we will see the materials I use, so that you can take some notes if you are interested in them for your home studio or even for live music.
As this blog is specially designed for producers, let's get straight to the point: our job is not to sit in an office for 8 hours a day doing boring paperwork. Since it is a job that requires 100% of our imagination, it has more complexities than it seems. Yes, it is a wonderful job where you can make a living out of creating entertaining material for people, for the public. It is pure communication of emotions.
But behind all this is the creation…
…which is not always easy. If what we want is to create art but with a certain constancy in order to be able to monetise our work, it is necessary to have a minimum order of things to do rather than a definite timetable or calendar (I personally don't believe in such things for music creation): getting to work will be a question of desire. The more enthusiasm and passion you have for your work, the more you will work and the more effective you will be in creating music, so you will also generate more income.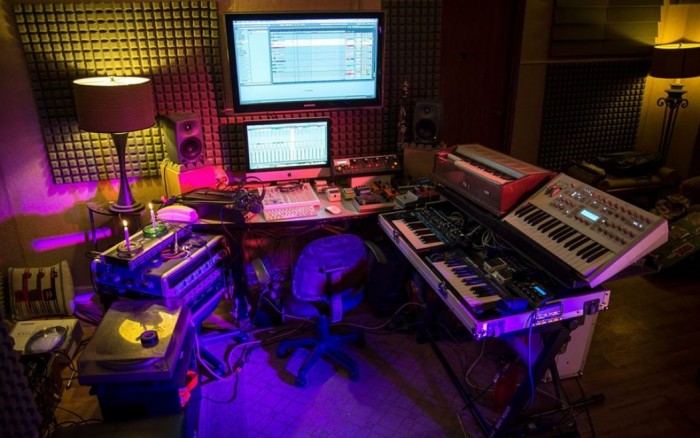 On the eve of the future banger
Whenever a client asks me for a track of any kind of genre, the first thing I do is to ask for references, that is, he has to give me some links of tracks of the musical style he wants me to handle when producing his instrumental. With these references I take notes about the particularities of the genre, the insturmentation and the structure. Based on these three fundamental elements I can establish a budget so that the client knows what the cost of such a base is.
Then I create a folder with the audio files he has given me (whatsapp recordings in which he shows me how the melodic line of the voice would be, the parts of the song, some notes…etc, links to videos with songs he likes…) and a small file with notes to make me an outline of the tonality, the rhythm (bpm) and the instruments and effects that I will introduce in his base.
My template and my equipment
The day before the recording I also plan the shape and harmony of the beat I'm going to create. From there, I extract more or less the amount of stems that are needed, although in my DAW program (Ableton Live 10) I have a template saved with all the stems that I usually use:
The drum bus tracks are grouped and routed to the Maschine 2.0 software outputs (for when I record with Maschine Studio): I also have a couple of tracks routed to my card (Roland Octa-capture) for recording with my various keyboards and synthesizers (Nord Stage 3 is the one I use most, but I also have a Roland JDXI and an analogue Prophet 6 that I love).
On the other hand I have MIDI tracks associated to the Kontakt plugin, in case I need to use VSTs or samples of real guitars and basses with very professional effects (which I have stored in different libraries of the software).
Edition
This template also contains the whole "gateway" of plug-ins that I use in the mastering stage: compressors, limiters, equalisers, volume meters… a series of plug-ins from different suits of the highest quality to make the tracks nickel-plated (among them, the Fabfilter suite and the Waves audio suite, two of the most used in the music production market).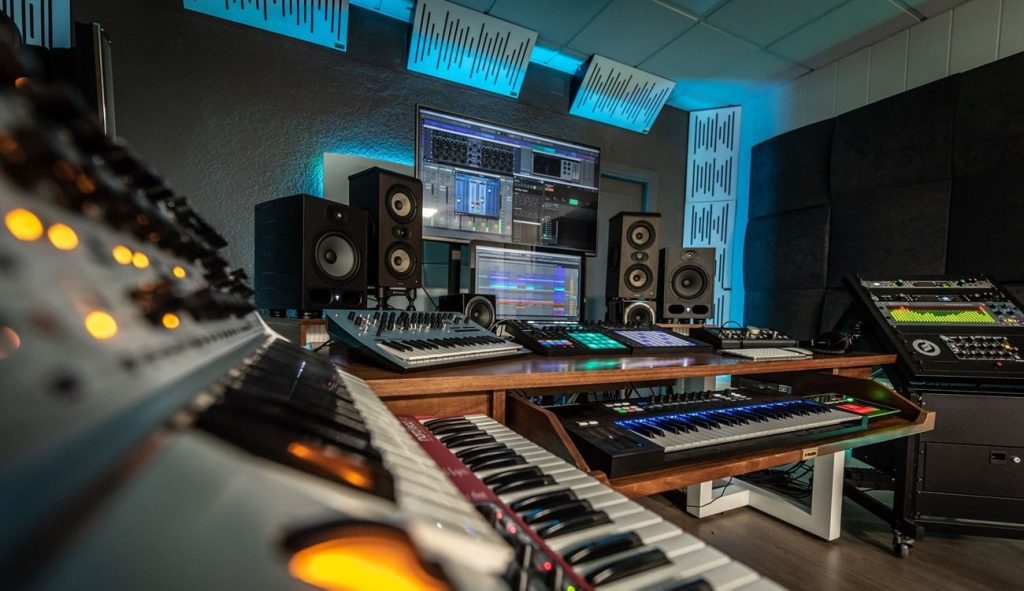 Recording
Then, on the first morning or afternoon of work, I record everything. I try to play around as much as I can and above all to go with the desire to play, to have fun, and not to work, because if I go with that attitude, things don't usually turn out so well, so many times if I see that I'm not ready, I wait a while for my motivation to go up.
Let's get it!
I mostly use sounds from my Nord, although for modern tracks I usually use MIDI sounds from various sound libraries (wavetables and minimoog emulations like Monark, synthesizers like Massive, sample-based guitar sounds like Studio Guitar or Real Guitar 3, bass, FX and acoustic pianos from Kontakt or Komplete Kontrol) and samples either from audio I've generated or downloaded, or from the Splice website.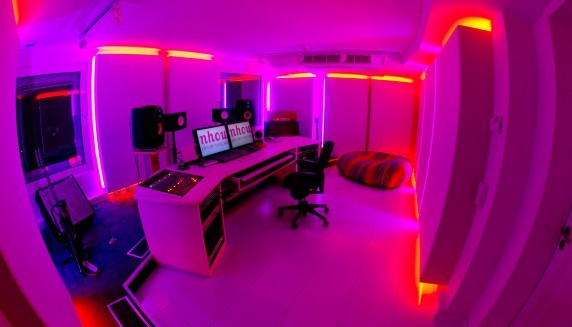 Mixing, mastering and details
In the last work session I usually "puzzle" (my own jargon, meaning to fit the loops together and build the structure demanded by the client or the structural qualities of the genre of music I am working on at any given moment), mix and master.
For the mixing stage I use my professional headphones (Audio-technica ath m50x) and then mix with JBL LSR 305 monitors to get another audio reference and check that everything is in order. In both I have a flat reference thanks to the Sonarworks plug-in, so I can set the right frequency balance and make everything sound balanced and balanced.
Extra work
Also, whenever I get a chance I listen to my mixes in friends' cars (especially in old cars, where the EQ of the equipment is lousy, because that way I can check if the track still has a minimum punch in the drums and bass, which would indicate that in a club it would sound devastating, which is basically what I'm looking for).
And that would basically be my whole production process. To recapitulate, we could say that building a track to its final details usually takes me two days, but I work a lot in both days.
If you want to work with an economy of means similar to mine, the first thing you should think about is studying music production in the main work software. Studying music composition or production online is one of the most comfortable ways to learn today, as well as a growing mode of study in the market and that is increasingly in demand. Here I leave you four courses corresponding to various recording software; Depending on what software you want to use to produce music, you can choose one of these cheap and valuable courses from Udemy. Give web learning a try!
Speed/work balance
It's a quite adequate time between the speed of work demanded by my clients and the music market of urban styles nowadays, but it also gives me enough time to rest my mind and go back to work with a clear head to improve the mix, retouch some things and make everything as perfect as possible so that the people I work with can send their music to different labels and record companies and monetise it, sell it, use it in concerts, promote it, etc.
I hope this blog has helped you to improve your production techniques, and as always, here are some similar blogs.
Remember that you can buy trap, dembow, hiphop, drill, pop, r&b, reggaeton beats! A la carte.